This i4U website you're looking at right now is an iLaunch CMS website! iLaunch is so customisable, reliable and efficient, we love using it ourselves.
Check out the featured iLaunch CMS websites in our portfolio
Content Management System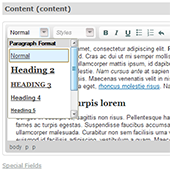 Want to change something? You can update, edit and publish your content quickly and easily via the administration area.
Add, edit and delete pages within a few clicks of your mouse
The rich text editor makes it easy to format your content with predefined template styles, basic formatting styles, links and tables
Automatic resizing of inline images to cut down on image loading time
SEO made simple: just type in the title, page heading (h1), description and keywords to rank highly in the search engines
Special fields make updating your general content quick and easy
Banners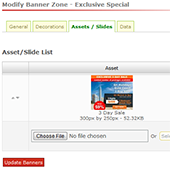 Banners allow you to easily maintain reused content within your website.
Updateable banner zones mean changes made to one area can be updated across your whole website for reused elements
Assets can be updated quickly and easily in defined flash / transitioning areas
Blogs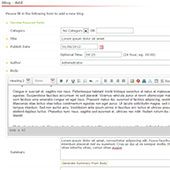 Use the blog area to post interesting and promotional blogs to engage with your customers and keep them coming back for more.
It's easy to publish, edit and delete blog posts
Group your blog posts into categories, add tags and schedule future posts
Want to reach a wider audience? Automatically broadcast your blogs to social media sites such as Twitter and Facebook to get people talking about your business
Automatic system-generated RSS feed
Enquiries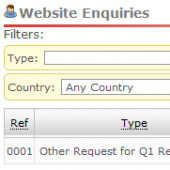 Enquiry forms are a useful way to collect contact information from your online customers.
Visitors can complete a simple contact form on your website
All enquiries are emailed to the admin so you can reply promptly
Enquiries are automatically recorded in the website admin for future reference
FAQs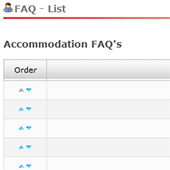 A useful place to list and answer all the questions you get asked most often by your customers.
Quick and easy to add, edit and delete FAQs
FAQs can be categorised
Galleries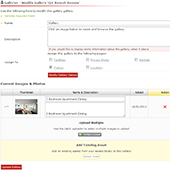 Showcase your business and products by uploading images to your online galleries.
Add, edit and delete your images quickly and easily
Customise your image titles and descriptions
Display your galleries over multiple pages and include multiple galleries on one page
Upload multiple images at once to save time
Maps
Show your visitors exactly where you are by using Google Maps to pinpoint your location.
Publish, edit and delete Google Maps on your website
Display your maps over multiple pages and feature multiple maps on one page
Point out multiple addresses and points of interest
Customise the zoom level and map type quickly and easily
Newsletters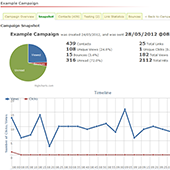 Announce new business ventures, post a news article or create a powerful email marketing campaign in the easy to use newsletter section of your website.
Add, edit and delete news articles and newsletter campaigns quickly and easily
Send a newsletter or news article immediately or schedule them for the future
Create a newsletter campaign from a news article
Preview and test send your newsletters before sending them
Choose the contacts you want to target for each newsletter campaign, or send to everyone in your contact list
Filtering system allows you to add contacts to a newsletter campaign based on certain criteria
Provides statistics on the success of your campaign, including demographic information (where available)
Contacts can be imported from a CSV file, as well as additional information such as location, and demographic
Contacts can be exported to CSV for use with other systems
You can import unsubscribe CSV list if you need to manage your contacts between multiple systems
Testimonials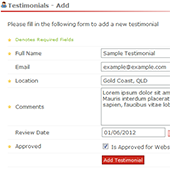 Our testimonials feature allows your visitors to post reviews and read what other people have been saying about your business.
Add, edit and delete testimonials
All customer testimonials get emailed to admin for approval (or you can choose to auto approve testimonials in the admin panel)
Site Maps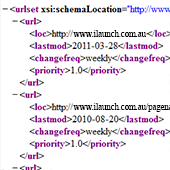 Site Maps helps both visitors and search engines find pages on your website.
Site map page is automatically generated
XML site map is automatically generated and submitted to search engines
Website Settings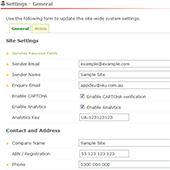 Update your website's settings in the administration area with just a few clicks of the mouse.
Customisable fields such as contact details and email address which can be referenced with special fields
Automatic integration of Google analytics on every page of your website (if included in settings)
Seamless integration with social media sites such as Facebook and Twitter with icon links and widgets
You can broadcast blogs and news articles automatically to social media sites to reach a wider online audience
Mobile Website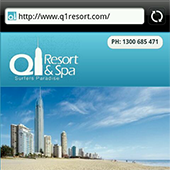 Visitors who want to view your content on the go will have access to a mobile optimised version of your website.
Automatically detects when your web visitors are using a mobile device
Designed for optimal viewing and functionality on a mobile device
Visitors can choose to switch to the normal version of the website if preferred
Mobile site index is fully optimised for search engines
Mobile Settings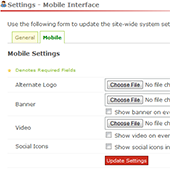 Update your mobile website's settings quickly and easily in the administration area.
Choose and set an alternate logo, banner image or video for the mobile version of your website
Option to display social media icons in the mobile interface