Marketing your website effectively is just as critical as the design and development stages. The i4U internet marketing strategy incorporates the latest advances in Search Engine Optimisation, Email Marketing and Search Engine Marketing to increase your online visibility and drive more traffic to your website.
Search Engine Optimisation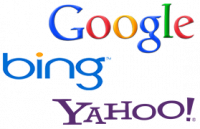 Search Engine Optimisation (SEO) is an essential component of any online marketing campaign. It ensures your website ranks highly in prominent search engines and therefore gets found quickly and easily by your customers, which translates to more website traffic and a higher conversion rate. We restructure all the websites we work on to ensure that they are keyword rich and search engine friendly for free as part of every web design project.
Social Media Marketing
It's extremely important in the current day to connect directly with your customers via major social mediums to create a personal and trusted relationship. i4U can help with the setup, creation and customisation of your accounts including Facebook, Twitter, LinkedIn, Instagram, Pinterest and more. We can also assist in developing a marketing strategy and managing your online social media profiles.
Email Marketing
i4U's email marketing software allows your brand to instantly communicate with thousands of people within just a few clicks. Take a hands-on approach to managing your email marketing campaigns, maintain existing customer relationships and win new business - all for as little as 3 cents per email. Email provides the perfect platform to mass communicate with your client database by sending out introductory specials, news, information or exciting new business announcements. You have the option of sending the email in plain text or HTML. Detailed statistics and reports make it easy to analyze the success of each of your email campaigns to shape future projects.
Search Engine Marketing
The i4U approach to search engine marketing is unique, and we believe this is one of the main reasons for our success. Our tried and tested strategy is based on content marketing , including blogging and SEO content , as well as innovative off-page strategies that focus on link-building.