Posted in
Products
on
Aug 27th 2015 11:00am
- by Fatima
There's no denying that Wordpress is a popular platform - but is it a good fit or just the defactor standard for those looking to get a site up and running?
Some web design companies are resorting to using Wordpress because it's easily available, and not difficult to grab a theme and call it a custom design.
With over 74 million installs, we don't think we're in the running for a popularity contest, but we hope you read on to find out why iLaunch may be a better option for you if you're looking for a professional website solution.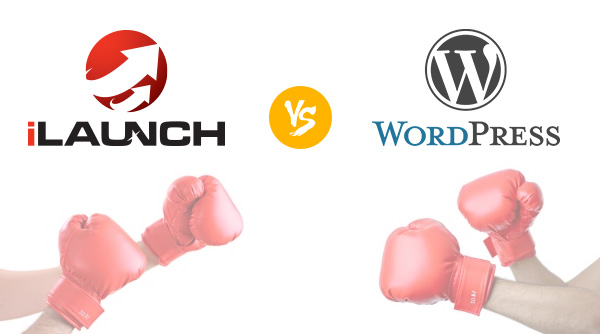 1. Wordpress was originally created for blogging, not to run a website
Wordpress was originally created as blogging platform, and over time has been somewhat fashioned to handle the additional capabilities that website owners now need.
Wordpress owes its popularity to a time where there were not a lot of choice for small or independent website owners looking for a way to share content on the net. At the time, Wordpress helped bring blogging to the masses.
While blogging is still very relevant and useful (especially for organic SEO results), many website owners will find that Wordpress lacks the features, and customisability needed. Particularly in the back-end administration area which can be extremely limited when it comes to managing content, page layouts and menus.
iLaunch was built from the ground up to manage your entire website and content as simply as possible.
2. Wordpress is a security risk
Wordpress is inherently vunerable to hackers and requires it's system to be manually updated regularly. If 3rd party themes and plugins are installed on your Wordpress site, they may contain security exploits, spam links and malware files... and you may not even know it!
The i4U technical team is constantly monitoring the iLaunch system, code and services for our clients. System updates and bug fixes are automatically rolled out to all iLaunch websites... and it's all FREE as it's included in the iLaunch website hosting plan!
We also automatically backup your website each night.
3. Upgrades? You may be on your own
Wordpress regularly pushes out upgrades to address new features or security vulnerabilities, however you don't get those upgrades automatically unless you are hosted on their paid cloud platform. In order to upgrade your Wordpress website you'll need to understand how to backup your database, wordpress files, deactivate various plugins, and then run the install process.
In iLaunch, your website is upgraded seamlessly and without downtime. We regularly add new features, or address fixes and roll them out to all our servers automatically.
4. The iLaunch Assets library is awesome
The iLaunch Assets library and functionality is fully integrated into all areas of the iLaunch admin. This means you can upload a video, image or document once, and re-use it in many places.
iLaunch also handles automatically resizing, creating thumbnails, and caching which makes it extremely easy to use and increases site speed and reduces website bandwidth.
Your images and videos are automatically displayed with the correct dimensions, No plugins or extra coding needed!
5. SEO is built into everything for iLaunch
All aspects of iLaunch have been developed with Search Engine Optimisation in mind, to ensure that your website is properly indexed with search engine friendly URL's and content.
All pages, modules and site functionality are build on our core SEO principles, and again... no plugins needed!
6. Growing with iLaunch is easier than Wordpress
Additional functionality like Custom Records or our eCommerce Shop can be easily integrated with the iLaunch system. Wordpress works on thirdparty plugins - and running a shop on a Wordpress plugin that doesn't really communicate with other areas of your website could be a big long term issue!
We can build custom functionality into iLaunch for you, but we also have ready built modules which simply work straight out of the box:
Blogs
Newsletters
Galleries
Dynamic Animated Banners
Enquiries Management
Members Area
Google Maps and Google Analytics integration
Content Management
Youtube and Vimeo integration
Optional Fully-integrated e-commerce shopping cart
For a quote or an iLaunch demonstration, please contact us.