Posted in
Design
on
Jul 22nd 2013 1:45pm
- by #teami4U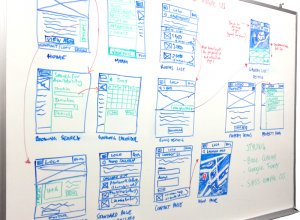 The iLaunch CMS has included a built-in mobile interface for about 18 months, and we think it's already time for a change. Since many of our clients rely on converting visitors, and many of those visitors are using their mobiles, we are shifting focus to building a more rich and intuitive experience.
Mobile interfaces have changed dramatically over the last year, and we know based on our own data that mobile usage is increasing every day.
Not only is there many more mobile devices in the market, but the users themselves are much better at using mobile interfaces than they were a year ago. They've become accustomed to the gestures and nuances that a well thought out mobile interface offers - in fact, they expect it.
So we're building a new mobile interface, with the following core goals in mind:
Simple intuitive design
Content is key
Easily customisable for each client
Seamless transition from old UI
We've already started planning how we can improve the flow, and useability within our mobile interface, and work is set to begin on a new framework